Below are direct links to many of the private homes (not all listed per destination). There are other ways to filter your search for Ski Resort Mountain lodging.
Renting a vacation home can save you money. Renting a house, townhouse, or condo can be surprisingly affordable. For even more savings, divide the cost of one vacation rental home with friends or family. Though it's not true in all cases, many travelers find that renting a home is much cheaper than renting enough hotel rooms to accommodate their entire group.
Vacation rentals are socially distanced. In our luxury resort locations condo's offer little to no crowds, private entrances, limited use of elevators often private.
Profesional Cleaning and Maint. For your peace of mind, comfort, and confidence, Snow Sport Vacations features accommodations where NEW COVID19 cleaning initiatives have been implemented. Often with 24/7 front desk availble and on call maintence.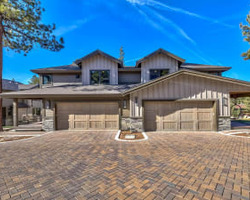 Gondola Vista 4-6 Bdrm Homes (Off No Longer LVV)
Stay in these luxurious & spacious for the most comfortable stay in Heavenly! These beautiful homes are located a short 5 minute commute to the lake and mountain. This Residence is Request Quote Only*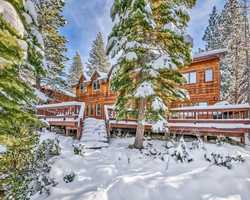 Martis Landing 1117 4 BDR HOME
Kitchen | Living room Fireplace | Hot tub Shuttle services available
You'll have plenty of space. Family vacations used to include kids bickering over who got what side of the bed and what to watch on the only TV in the hotel room. In a rental home, there may be many TVs, and there will certainly be plenty of beds. Each child might even get her own room. Mom and Dad will definitely get their own room—privacy at last!
Your whole group can stay together. In a hotel, a large family or group of friends will be spread out among several rooms, possibly on different sides of the building. A house, townhouse, or condo lets you all stay together, so everyone is easy to find and include in the fun. You'll also have more comfortable places to hang out as a group—in the living room, on a deck or patio, or around a dining table.
You can cook at home, if you'd like to. Cooking your own meals can be a big budget saver. You'll also be able to keep a fridge and cabinets full of snacks, and have access to your favorite coffee at a moment's notice. Better yet, having access to a kitchen can be a lifesaver when traveling with someone who has special dietary needs.
Access to free laundry facilities. Most rental homes are equipped with washers and dryers—no coins needed (be sure to ask when booking if this is important to you). When it's this easy to do laundry, you'll save time and money, and you'll be able to pack lighter.
You can live more like the locals do. With a vacation rental, you'll likely stay in a more residential part of town, instead of on a tourist strip.
Make it easy to set yourself up to get to one of the Sierra's best kept secrets by checking out the best lodging deals right here! Make your way through scenic national forest to finally land in this remote, yet accessible skier's and rider's paradise. Get away from the crowd and create your adventure. Kirkwood is known for its unforgiving steeps, as well cruisers for all, and plenty of ski in ski out family friendly lodgings; the right place at the right price. Exciting on the hill and mellow off the hill. Play and then relax where the crowd won't find you.
We have great deals on Kirkwood, Heavenly, NorthStar, and Sierra at Tahoe California Lodging!
Filters are at the bottom of lodging pages -
Grab the dates you want to travel
Scroll to the bottom and filter
We automatically show you large properties
If rates aren't showing ask for a quote - These are one off properties and many variables -
Our relationships are strong and not all properties are listed